Crew for Monsoon Tide
We were really lucky to be able to pull together such a strong crew for Monsoon Tide. Click on a tab to view some of their biographies.
Biography - Nick Fletcher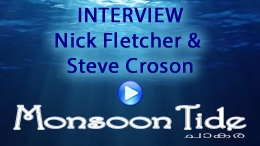 In the last decade, Nick has worked in the film industry, consulting on and art-directing several independent feature films. He has also co-written and co-produced the $1m anthology feature film, 'Tales of the Fourth Dimension' starring Richard O'Brien, (directing the episode, Last Chance Saloon).

Always aware of the importance of the script in the film making process, he spent a lot of time studying the art and craft of screen writing, winning a UK Film Council Regional award for his short screenplay, Playtime. In the last few years, he has devoted himself to writing and developing the screenplay, Monsoon Tide and has been successful in raising the finance necessary to make this film using the latest cutting-edge production technology available.
For more information on Nick Fletcher, visit his own website by clicking on the "Web Page" button below the image.